After setting idle for more than 50 years the little grist mill south of Salem, Indiana is now churning out a product that once made it famous.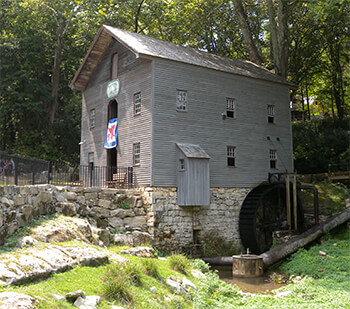 The Old Mill sat idle and was a sad reminder to the lifestyle of our pioneering ancestors. The mill's mechanical and structural elements were deteriorating. Rodents chewed away at the huge timbers of the main frame structure while floor boards rotted away from moisture damage. The mill structure was unsafe to enter and unfortunately with such a unique historic structure sitting empty vandals pilfered some interior furnishings and equipment.
Then came hope for the future.
In 2005 a group participating in the Awareness Washington County (AWC), a Washington County leadership development program, decided to explore the possibility of restoring the Mill. As a tribute to the determination of the members and their understanding of the importance of saving such a unique landmark their efforts yielded positive results where others had failed during the 50 years prior.